Night 1: Hanoi - Night train to Lao Cai
9:00 pm – Mini bus pick up from hotel and transfer to Tran Quy Cap train station
10:00pm – Train depart and sleep the nights on train. Travel time approx 9 hrs. Overnight on the train
Day 2 : Sapa Town - Ta Van - Seo Trung Ho Village (B,L,D)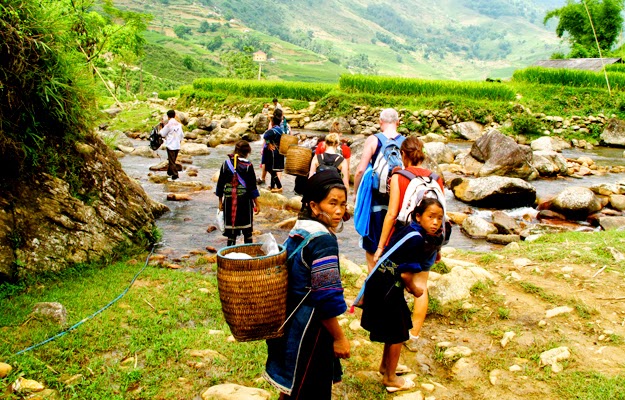 17 km by jeep, 18 km trekking , round 7 hours of trekking.
The train arrives at Lao Cai station early at about 06.00, where your guide and driver waiting for you and an hour transfer uphill the Hoang Lien Son mountains to Sapa. Great views of valleys and terraced rice fields along the way! Breakfast and shower at the hotel, take a jeep ride along MuongHoa valley to visit the Rattan Bridge, start the trek at Tavan village where the Dzay monority located then get to the village of the Red Dzao people (GiangTa Chai village). Do a trek round 6 - 7 hours through the forests up and down in Fanxipan range then reach Seo Trung Ho village of the Red Dzao. This is an almost untouched village and there are very few tourists getting here. In here, there is a chance to enjoy a most beautiful waterfall in Sapa, which comes from a height of about 70 m. Stay overnight in this village with a Dzao family. Home stay in Seo Trung Ho
Day 3: SeoTrung Ho - Ta Trung Ho - BanHo Village - Sapa - Night train to Hanoi (B,L,D)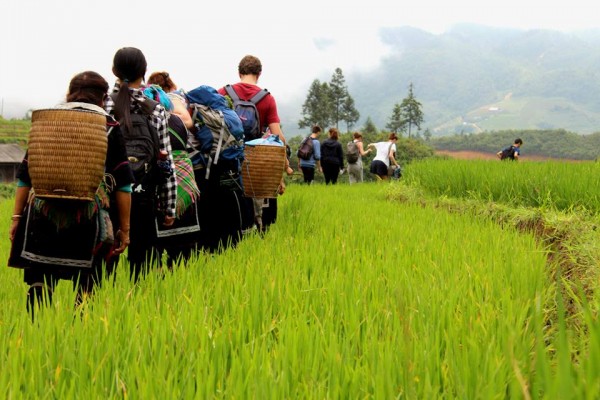 17 km trekking in the forests.
Have breakfast with the family, start climbing up to the mountain for another untouched village: Ta Trung Ho village located at about 1450m above the sea level. Picnic lunch at the village and then descend BanHo village to visit a different minority: The Tay people who have houses on stilts, then take a Jeep back to Sapa, room for shower, Dinner in Sapa Cuisine Restaurant.
At 6pm, get transfered to Laocai train station, sleep on the night train back to hanoi.
Night 3: Lao Cai to Hanoi
At 6:00 pm, you will be transfered by a tourist shared bus to Laocai train station, then take the night train back to Hanoi. End of the trip